In the case that a file, folder, or Workspace is accidentally deleted, Onehub has the ability to restore deleted information within a 30 day time period.

To restore a deleted file, folder or Workspace, please send an email to support@onehub.com and let us know as much of the following information as possible:

The type of item needing to be restored (e.g., file, folder, or workspace)
The name of the file, folder, or Workspace
The date the item(s) was deleted
The user who deleted it (name or email address)
Link to the deleted file, folder, or Workspace (can be found in Activity)

Once the information has been restored, any previously invited users will need to be re-invited.


Please allow up to 24 hours for files to be restored.


Please note: Items deleted by enabling the Automatically Delete option CANNOT be restored by Onehub support.


To get the required information for support: Go to your Activity tab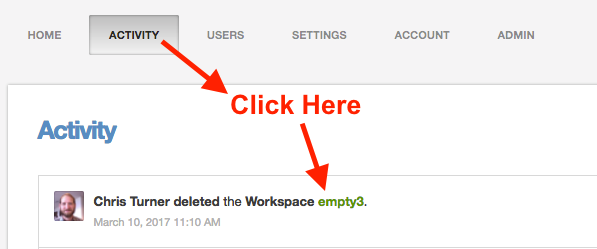 Click the link that says the file was deleted and then send us the resulting URL from the address bar.