Onehub offers features to help you search and filter information in your account to quickly find the files you are looking for.
The Filter feature can be found at the top of your Workspace list, right next to the drop down that allows you to choose your Sort preferences. This feature will be available from the home screen, as well as within Workspaces and folders.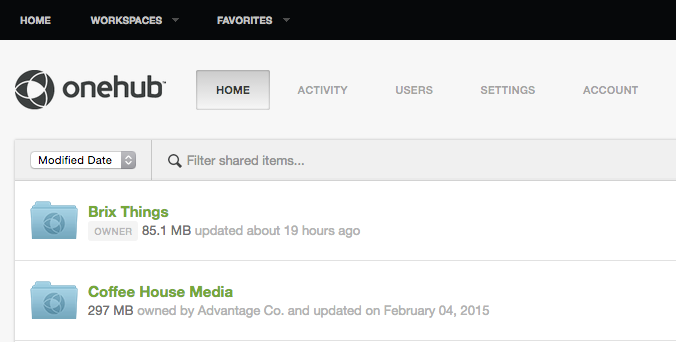 The Filter feature will narrow down the current list of Workspaces, files or folders by keyword and show you a list of all applicable results. Here, we have a filter for "Market" showing us the Onehub Marketing Workspace.
Note: Filter will not produce results from items within folders or workspaces. It will filter by title only.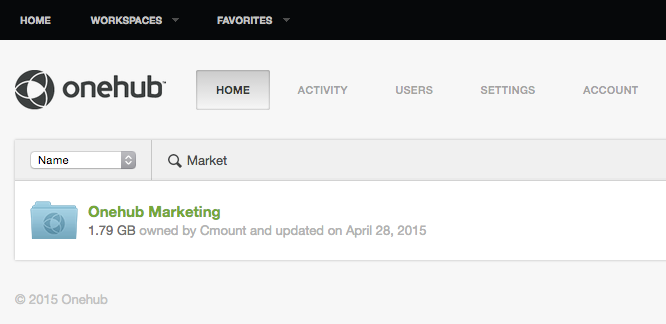 Onehub also offers a Search feature, which will search your entire account, or the Workspace you are currently viewing for keywords or phrases. Search can be found at the top right of the Onehub page, next to your display name.

Search will look for keywords or phrases in all Workspaces when used from the Home screen, and will search the Workspace you are currently viewing when accessed from a Workspace instead of the Home screen.
These three keywords: AND, NOT, OR (capitalization sensitive), can be used to narrow down your search if your search produces many results.

The Onehub Filter feature is available to all users, however the Search feature is only available to users given Workspace or Account access within Onehub.