After inviting users to access your workspaces, folders, and files, you also have detailed control over their level of access to each of these items and their contents. This can be controlled from the Permissions & Sharing icon next to a folder or file. Keep in mind that workspace Moderators, Administrators, and Collaborators cannot have their access changed at the folder or file level.



User Filters and Searching
After accessing the Permissions & Sharing section for a folder or file you will see a list of all users that have access to it. You can then filter the list of users to show just Account Users or Workspace Users, or Direct Users.

Note: Users that have been invited directly to the item you are editing permissions for are called Direct Users.

To find a specific user you can click the options button (represented by a gear icon) to reveal a search box. Type their name or email address to find them quickly.


Changing Individual User Access
After you have found the user (or users) whose access you would like to change, you can select a different role for them from the role drop-down. This will immediately change their permissions on that item.

Note: Users invited directly to individual files are unable to use the Edit feature, regardless of role. Users invited to folders at the Creator and above levels will be able to use the Edit feature.


Hiding Items From Users
In addition to changing permissions, you can also completely hide a folder or file from individual users. This is done by giving a user the Access Denied role. The Access Denied role prevents a user from seeing and accessing the item and its contents.


Note: The Access Denied role won't show up as an option for users that have been given direct access to the folder or file you are editing permissions for. Instead, you can remove their access.

If you want to hide an item from the majority of users as well as any new users you invite to the workspace, you can use the Hidden switch found after clicking the options button. This will hide the item from all users at once by changing everyone's role to Access Denied, but still allows you to re-enable it for specific users by increasing their permissions.


Folders that are hidden will have transparent icons to distinguish this setting. The icon for hidden files does not change, but you can see that they have permissions settings enabled by looking for the lock icon that lights up.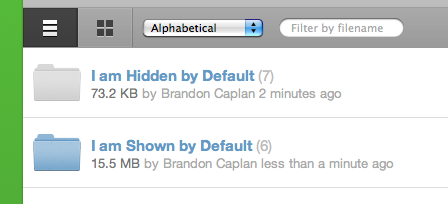 Setting a Default Role
Setting the default role for a folder or file allows you to override everyone's access and set their role to a specific level. This is useful in cases where you have a lot of members in your workspace and you want to change all of them to the same level of access for a particular item.

Note: Setting a default role does not affect users who have been invited directly to the folder or file.





Visual P

ermission

Indication for a User's Access Level - What the Users See

When you have given different level access to different folders for the same user, they will see + or - symbols on the subfolder in the workspaces. This is a visual indication of their permission level in the current folder and subfolders. If there is a plus, they have higher level permission in that subfolder than the current folder, and minus means they have a lower level of permission in that subfolder than the current level.


Usage Examples
Intranet
Create a shared intranet with private folders for each user. The workspace contains a few documents that can be accessed by all, but each user also has their own, hidden folder that contains documents that pertain only to them.

Data room
Setup a data room for an investment opportunity. Everyone gets access to the review documents, but keep a hidden folder that contains detailed financials that you grant access to users who move forward with the deal.