Email can be tricky, and sometimes you will find that a user is not receiving the invitation email you have sent them. This could be due to many reasons: it has been quarantined by their email server, caught in a spam filter, accidentally deleted, etc.

If you have a user that is not receiving their invitation, there is an easy way to get it to them. On the same share dialog you invited them from originally, you will see an Invited status button below their email address or name.
Note: If a user is invited at the account-level, you will need to go to the "SHARE" icon within any workspace to find the Invited status button with the manual link.



Clicking on this will provide you with an alternative method of providing them with the invitation link.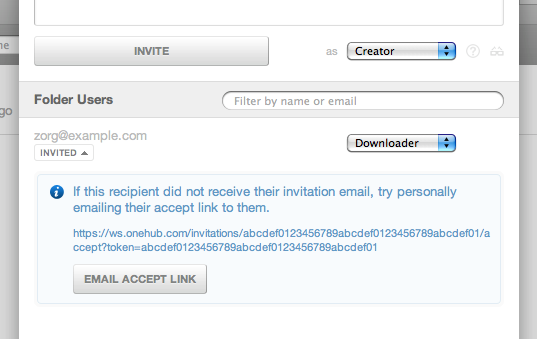 You can then provide the link to them via your own email by either copying and pasting the link, or clicking the Email Accept Link button which will open a new email in your default email client.

Note: If the "INVITED" drop-down menu does not appear, this means the user has already set up a Onehub account at the email address listed and has accepted their invitation. If they log into their account using the specified email address, they will be able to automatically access the item(s) they were invited to.