Removing Users from Workspaces, Folders, and Files

To remove a user's access to a workspace, file, or folder, click the Share button for the item you would like to remove them from. Once the share dialog appears, click the trash icon that shows up when hovering over the user in the list. This will immediately remove their access, even if they have not accepted their invitation yet.

Users can only be removed from the level they were originally invited at. For instance, if you invite someone to your workspace, they will also be listed as a user when looking at the Permissions & Sharing section for files and folders, but will only be able to be removed from the workspace share section where you originally invited them.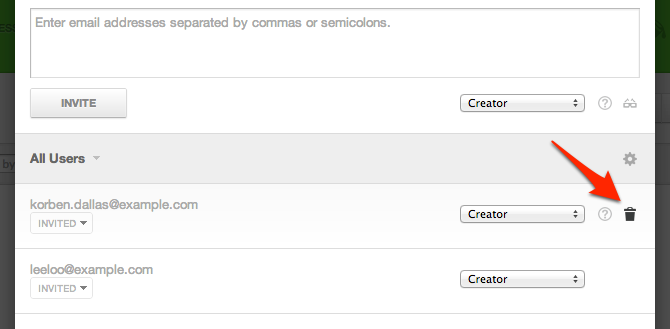 Removing Account-Level Users

Users at the Account Level can only be removed from the Users tab found on the Home page. This is also a great way to remove users that have access to multiple items on your account in one action.

Account owners cannot have their access revoked or changed. To remove the owner, you'll need to submit a request to transfer ownership. Once this is approved, the previous account owner can be removed.



Note that removing a user's access does not delete the user from Onehub. Removing a user's access only removes them from accessing the files or account you shared with them.