Onehub's Office Online integration lets you create and edit Word, Excel, and Powerpoint files using Microsoft's Office Online editor. Changes you make will be immediately saved back to your Workspace, making edits fast and easy. Co-authoring is also supported giving you and your team the ability to simultaneously collaborate on changes in real-time.

This feature is not intended for syncing documents from Onehub to Office Online and vice versa.

An active commercial Microsoft Office 365 subscription is required to use this feature.

Supported file types
Word (DOCX)

Excel (XLSX)

Powerpoint (PPTX)
Note that .doc .xls and .ppt are not currently supported for Office Online Integration, but can be edited by using Google Drive.
Getting Started
Users will need to have Creator or above permissions in order to use this feature. To create a new document, click the "Create" button and choose a document type. You will be prompted for a file name then brought to the Office Online editor.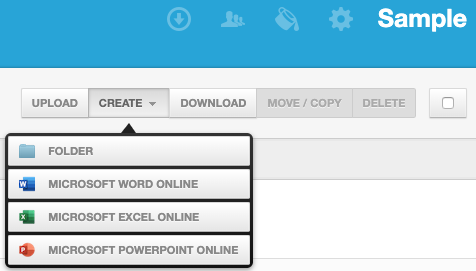 Editing existing files is just as easy. This can be done from the file listing by clicking the more button ("...") or from the file preview page.





If this is your first time using the feature, you may be asked to sign in with an Office 365 account before being brought to the editor.

Note: The Office 365 integration is disabled by default when the Custom Domain and White Label feature is enabled. This integration can be enabled by going to Account > Integrations.

Troubleshooting
If you are using the Office 365 integration on Safari, you must have third-party cookies enabled.
These can be enabled in Safari by going to Settings > Privacy > and unchecking "Prevent cross-site tracking." Please note, you may have to restart your browser for these changes to take place.

Disabling Office Online Integration
Account Administrators can disable the Office Online feature for the entire account by visiting the Account tab > Integrations. Click the checkbox next to 'Disable Office Online Integration' and click Save Changes.