You can now connect your Google account to Onehub to enable the ability to create and edit documents using Google Drive.
Note: The Google Drive integration will be disabled by default if the Custom Domain and White Label feature is enabled on an account. We are unable to hide Onehub branding from this integration. This integration can be enabled by going to Account > Integrations.


Connecting
To begin, navigate to the Settings tab. At the bottom of the Information section is a button to connect your Google account.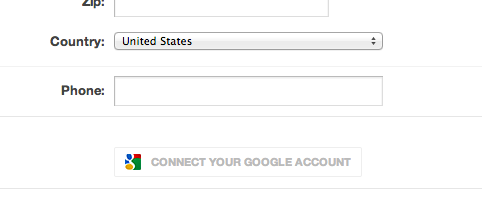 Click this button to begin the connection process. You will be asked to sign into your Google account. This works with both standard and Google Apps accounts.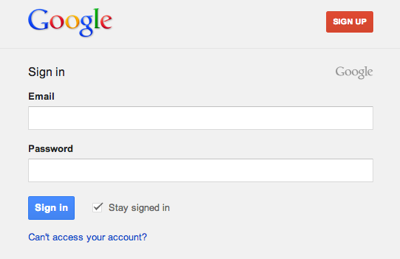 After signing in (or if you were already signed in) you will be brought to the Google authorization page. If you were signed in to multiple accounts, choose the one you would like to connect to Onehub. Only one Google account can be connected to your Onehub account at a time.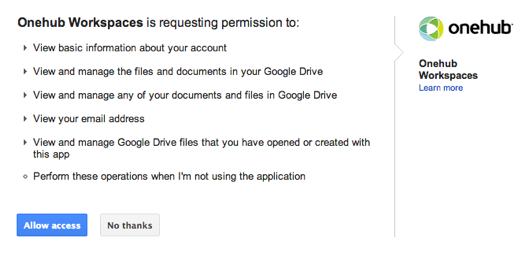 Click Allow access to finish connecting. You will be brought back to Onehub.

Disconnecting
If your account is connected, you can disconnect it from the same settings page. Just click the Disconnect button. Disconnect your Google account if you no longer want to use the Onehub Google integration, or you initially connected the wrong account.




Note: Enabling this feature does not upload any pre-existing documents from your Google Drive into your workspaces or allow you to view your Google Drive directly through Onehub. This feature enables the ability to create files within your workspaces.
Browser Requirements
Onehub's Google Drive functionality supports the two most recent versions of the following browsers:
​

If you're working in Internet Explorer 8 -10 and would like to use Onehub, you will need to use another supported browser. You may be unable to upgrade your browser on your own. In this case, please contact your administrator or your IT support for further assistance.

This article specifically covers support for the Google Drive integration feature.

The Onehub service supports up-to-date browsers (Safari, Google Chrome, Firefox, Microsoft Edge) and Internet Explorer version 11. Note that some features may not be compatible with Internet Explorer version 11.