You can add alternate email addresses if you expect to be invited at more than one address. Email notifications are only sent to the primary email address.
Adding an Email Address
From your Email Settings, enter the new email address you would like to add and click Add Email.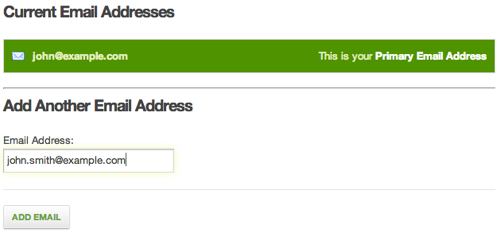 It will appear in the list and an email will be sent to you with a link to confirm the new email address.



Changing Your Primary Email Address
Once an email address has been confirmed, you can make it your primary address by clicking the Make Primary button.



If You Receive the Following Error



An email address can only be on one account at a time. If you receiving this error when trying to add an email address, you can Open a Support Ticket with our support team. Please include the following information:
The email address of your primary account
The email address you're trying to add