Onehub logs user actions within the system as activity. You can view and export activity to help keep track of Workspace usage.

​
Viewing Activty
To view a list of activity on your account, click on the
Activity
tab from the Home screen.


Filtering Activity
A list of your most recent activity will be displayed automatically with Filter, Export, and Save options available.
Use the
Filters
section to customize what kind of activity is displayed. You can also choose to hide your own activity to make viewing other user's actions easier.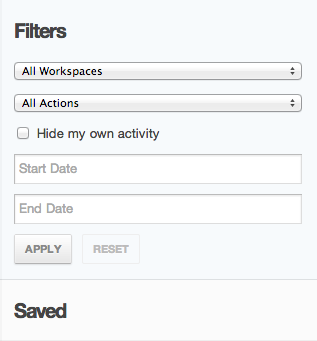 After you have filtered the activity, you can save the filter for future use. It will get added to the
Saved
list under the Filters section.
Viewing Specific User Activity
You may filter Workspace and user activity to quickly narrow your search results. Click the Filter By icon to produce the Filter by drop down menu.

This will allow you to narrow your activity search results to only include the selected user or Workspace, making it easier to find the information you are looking for.
Exporting Activity
A list of activity can also be exported. This is useful if you need to download the information to a file so you can do more detailed searches with it. Activity exports may take a few minutes to complete. We'll send you an email with a link to download it once it has finished. You can also download recent activity exports from the activity tab. They are kept there for up to 30 days.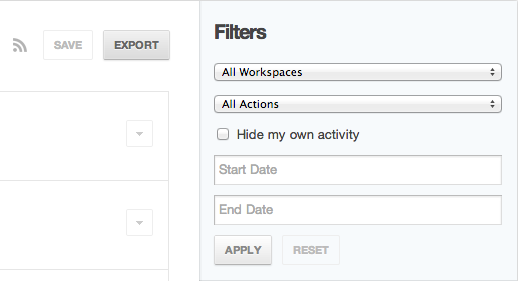 ​
Note: Viewing activity on the Onehub website will allow you to view and filter the last 5,000 actions taken on the account, while exporting activity includes the last 10,000 actions.